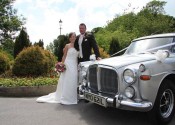 Brenden Ward Photography
Areas Covered
Tyne and Wear
About
Why Choose Brenden Ward?

Couples in and around the Newcastle area choose Brenden Ward as their wedding photographer for both his beautiful, contemporary wedding photographs and his relaxed and fun approach to wedding photography. He specialises in creating informal, reportage wedding photographs that capture the fun, love and happiness of your wedding day.

He is, however, happy to take as many (or as few) traditional wedding photographs as you want. Brenden Ward only photographs one wedding per day to ensure you receive a professional service of the highest quality. Between 200 and 400 photographs will result from photography on the day, from which you can make your selection for your wedding album. As we use professional high resolution digital cameras, all wedding photographs can be provided in black & white, colour or other finishes.


Excellent Service

Whether you live in Newcastle or elsewhere in the North East, Brenden will arrange to visit you before your wedding to discuss your requirements. If you are having a rehearsal he will also attend this if requested. After your wedding he will re-visit and discuss and sort out all the wedding photographs for your wedding album. Once you are fully happy with your wedding photography he will arrange for them to be developed and carefully placed in your wedding album. This will be ready within 10 working days of your wedding day. All your wedding photographs are stored on long term media so if you decide you want additional prints, specialist products at a later date this can be arranged.