Wedding Photographers covering Cornwall, Devon, Somerset, Avon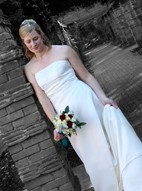 KernowPhoto
Areas Covered
Cornwall, Devon, Somerset, Avon
About KernowPhoto
KernowPhoto is committed to providing you with quality photographs to celebrate and remember your special day. It's important to us that you get the photographs that you want and that you feel relaxed and confident in your choice of photographer.

We will take time to talk you through the various options and provide you with ideas and suggestions but moreover we will listen to what you actually want and strive to produce the images according to your requirements. We will meet with you at least once and usually more often to ensure that we approach your wedding as the one-off unique event and capture it in the way you want it to be.

In addition to the prints and a photo album/Storybook, KernowPhoto will provide you with digital copies of all of your wedding images and we will not tie you in to expensive reprint fees. You pay KernowPhoto only once, we think that's only fair.