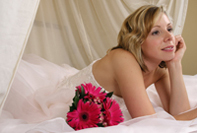 Naomi Lloyd Photography
About
I am very lucky to be married to Julian who is a qualified and very experienced photographer and who works with me on all our weddings assignments.

We pride on ourselves on moving away from the traditional approaches to wedding photography. We will always have a pre wedding consultation with our clients at their venue before the wedding day and make sure we get the names and links of the people who they most want to be captured sharing their wedding day with. We work hard to produce story-telling photographs that reflect the individuality of each unique wedding day.

The wedding day is a time to celebrate, relax and enjoy the fun. We want images that capture the inner person we know our friends and family to be, not just their "photo faces".

We also want to make sure that we capture the couple looking their best and this is all about understanding light and the most effective way to prompt and direct a couple to make the image more appealing.This is why we will always suggest that the the bride and groom allow some time for us to take some photos of them on their own away from the guests, either within the venue or a beauty spot between the church and venue. This is also a special time for a bride and groom to have some relaxed, romantic shots and quiet words with each other having just become husband and wife.