Wedding Photographers covering East Sussex, Kent, Middlesex, Surrey, South London, East Sussex, Dorset, Hampshire, West Sussex, Isle of Wight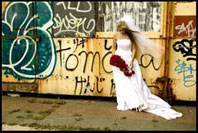 VisualChaos Studios
Areas Covered
East Sussex, Kent, Middlesex, Surrey, South London, East Sussex, Dorset, Hampshire, West Sussex, Isle of Wight
About VisualChaos Studios
Our wedding photography packages are both competitive and flexible; if you don't see what you are looking for come and talk to us and we will put together something that is tailor-made just for you.

Whatever coverage and presentation choice you decide upon, you can rest assured that we will provide you with the very best care, consideration and attention. From the consideration of photographic style you prefer to the creation of albums and prints that will give you wonderful memories for years to come and just as importantly, a wonderful heirloom of memories for your children and grandchildren!

We hope you will visit us soon to talk over your wedding plans - we will certainly look forward to it - just get in touch either email or phone and make an appointment to visit our studio in Crawley Down. Why not see what our clients have been saying about us - click here!

Wedding Boudoir and Makeovers
We also specialise in wedding boudoir and makeover photography, which is a fantastic gift opportunity for you to give to your partner either on the morning of the wedding, first night together as husband and wife, or maybe on your honeymoon. Take a look at our dedicated female photography site www.*******.com for full details.

You do not have to have any experience, as we take care of everything for you. If we had a pound for every time a bride has said to us, "I hate having my picture taken" or "I am not photogenic" we wouldn't need to charge you for your photography! Come and have a chat with us, you will be very surprised how easy it is.