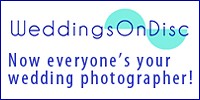 WeddingsOnDisc
Areas Covered
County Durham, Northumberland, Cumbria, Tyne and Wear, Lancashire, Merseyside, Greater Manchester, Nottinghamshire, Leicestershire, West Midlands, Norfolk, Bedfordshire, North London, South London, East London, Avon, Strathclyde, Grampian, Dumfries and Galloway, Tayside, Glamorgan, Powys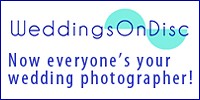 About
WeddingsOnDisc is the answer to all your wedding photography needs, a brand new way of providing
a fun and affordable photography experience for couples, without hiring an expensive wedding photographer!

If you are already thinking of having guests take photographs at your wedding, or have a particular friend who you think is a great photographer, then WeddingsOnDisc can help.

Simply ask your friends to take photos of your wedding and copy them to the supplied CDs and return to WeddingsOnDisc in the prepaid envelopes. We then compile and upload all your photos to the Internet to share with your friends, produce a stunning online slideshow, then send you the slideshow as a Hi-Res DVD and all your photos on disc... brilliant!

To see a sample gallery, slideshow and a Videage simply visit the relevent pages of our website.