1 min read
Beach wedding in the Seychelles
24th April 2011
Reel Life Photos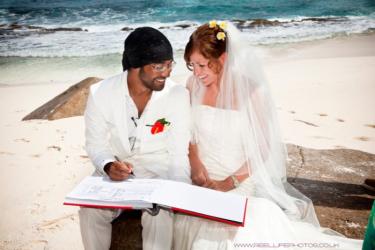 Lovely Lauren and Trevor found their dream wedding location, and spent 2 years planning their big day - on an idyllic beach near Trevor's extended families' homes in the Seychelles. All went well on the day with perfect timing, but their perfect beach wedding was very nearly nearly thwarted by unexpected heavy rain just before and just after the ceremony, so the beautiful white personalised towels they were to sit on - each laid out with a personalised fan - were soaking wet. But that didn't spoil the magic at all!
The tropical foliage and their total love for each other made for wonderful day, with a cornucopia of exotic foods & fruit at their outdoor wedding venue at Cap Lazare. http://weddingphotos-video.co.uk/blog/?p=2749.

Anyone else dreaming of a wedding in the Seychelles please get in touch - http://www.reellifephotos.co.uk/?p=1077 - as I am more than happy to pay for my flights to go out there again - or anywhere else in the world for that matter!