1 min read
Crystal bouquets, the perfect wedding compliment
18th May 2012
Our Wedding Memories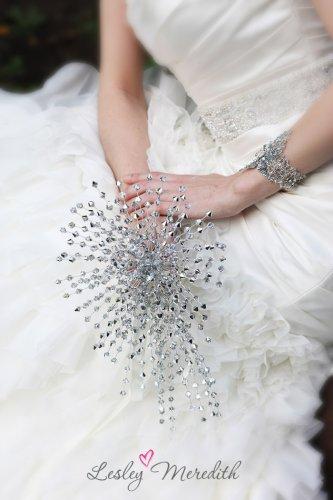 Crystal Bouquets by Tilly
Carol Clayton creates and designs bespoke wedding bouquets made using only the finest Swarovski Crystals.
A Crystal wedding bouquet is a perfect alternative to a floral bouquet, especially for allergy sufferers. Creating show-stopping designs that reflect style, personality and timeless elegance, Carol works hard with every bride to be providing unique quality and design.
Many brides to be are taking the path of planning a destination wedding and choose a crystal bouquet to accessorise their wedding gown for ease of choice and transportation.
Carol prides herself on delivering elegant products, an excellent service at an affordable price, and producing bridesmaid's bouquets, bridesmaid's wands, crystal buttonholes and crystal cake toppers.
Last October Carol decided to arrange a photo-shoot and collaborated with a dear friend Ann Mckavney. Ann is a designer and creator of many things, mainly headpieces; I refer to her as my partner in shine. After a very short search for a photographer our minds were made up, it had to be the Award Winning team Lesley and Shaun Meredith from Lesley Meredith Photography. Lesley and Shaun's work really did stand head and shoulders above the rest.
A Cheshire based family run business of two individual full time photographers. A husband and wife team bursting with fun, and excitement, offering a relaxed style and approach to their work. They have produced the most beautiful images of my designs that I never thought possible. From the moment you meet this amazing couple you feel at ease and comfortable in their company, in no time at all you are a part of their family. Lesley and Shaun will always go that extra mile and they are extremely generous with their time, to me this is priceless! Specialising in wedding and portraits for over fifteen years they have built up an excellent reputation that is most certainly well deserved. Not surprisingly Lesley Meredith Photography's work and advice is featured regularly in the bridal press, which highlights their passion, expertise and satisfaction is guaranteed.