1 min read
Marquee wedding in Normandy, France
7th June 2012
Reel Life Photos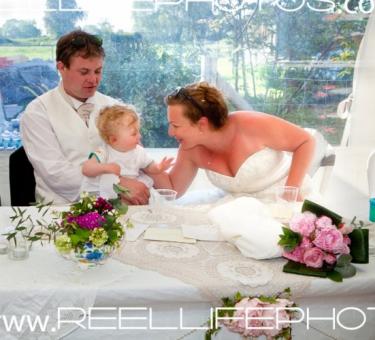 This was a last minute wedding request as a friend of the bride had intended taking their photos, but sadly was unable to attend the wedding in the end. See more pics on http://tinyurl.com/brseqx4

The day was a real scorcher, and the couple's baby had kept them up half the night before, so the bride wanted to keep the photos to a minimum. I still managed to take over 1000 images, but mainly to simply document the beautiful things and moments in their day.

The ceremony room in La Marie (Town Hall) was so tiny, that only the immediate wedding party could fit in. The Village Mayor who conducted the wedding ceremony was very kind though and let me squeeze behind his desk to take the pics.

This delightful image was taken just before the speeches and is one of my all out favourites of the day, so had I disappeared before the meal, would never have seen it.